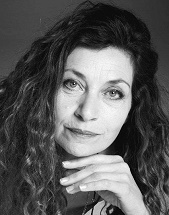 The unfolding story of Andrea's career is an intriguing one. Born in Sherwood Nottingham, Andrea begun to learn guitar at the age of eleven, which was a gift from her Grandfather. She began to learn South American songs from her Mum's help Lily from Chile. Her Parents ran Simon Black's Nottingham Lace stall, in the Victoria Centre, Nottingham.
Also at the age of eleven. A love of Flamenco was encouraged by John Carson until her own love of songwriting born out of a passion for writing poetry, emerged. Her own style forged her pathway, playing at local venues, but Andrea was a shy child, who also loved the theatre, and wanted to explore all of her talents further. After a two year theatre Arts course at Clarendon College, Nottingham, she won a place at GSA Drama School.
During that time, she played in venues all over Guildford, and went in to the theatre, working alongside Tilda Swinton, in Romeo and Juliet, and Barbara Jefford and Brenda Fricker, to name just a few, before acting in roles on TV, and founding The Tabard Theatre, in Chiswick, London.
Ironically she was then offered her first record deal by Doug Smith of GWR Records the Heavy Metal home of Motorhead, Hawkwid and Girlschool. Andrea Black was their first Jazzy signing, likened at the time to Sade and Kate Bush, with a twist of Suzanne Vega, Andrea enjoyed success in Japan, where JCV/Victor released her first album for Japan and South East Asia. Roadrunner released the album all over Europe. Andrea was offered a publishing deal by Toshiba/EMI/Virgin Japan, where her music was also featured to launch the Mazda MX5 Sports Car.
Her first album, re-named 'Laid Back in London', was produced by Benny Gallagher of Gallagher and Lyle, and received plays on Radio one, and worldwide. Her second album, 'Jumping from the Wall', was produced by LA's Daniel Lazerus, Grammy award winner for his part in engineering the famous Donald Fagen album 'Nightfly' alongside Producer Gary Katz. Andrea Black met John Lee Hooker through her Cousin Jeff Silverman in San Francisco who is a hairdresser in Burlingame, SF. John loved her music, and played her albums continuously, and invited her to the USA. A fear of flying, prevented Andrea from taking up the invitation initially, but finally in 1997 having played Jazz Cafe, and performed in Germany and Romania, she took up the offer, and found herself opening for Eric Burdon, at The Yella Mamma Jamma Festival, in San Francisco.
Another record deal was offered, and Andrea signed and took her then baby Daughter Xaviera to the Mountains of Boulder Creek. The album was never actually made, and Andrea spent the rest of that year living at John Lee Hooker's House, where she was a guest. They were offered a deal by the London label Indigo at Trojan, when sadly John Lee Hooker passed away, and the album was never made.
This was a devastating experience, but Andrea began to collaborate, firstly making an album with Slipper (Loop Guru) called 'When Hot Dogs Fly'. She played Glastonbury, and the Purcell Rooms and a big Festival in Athens.
The album received plays on XFM and worldwide. Then Andrea linked up with Robert Logan.
They both signed to ICU Records making the album 'Lizard Talk'. Andrea also collaborated with Mike Bell, creating the album 'Perfume Girl', also for ICU Records. Andrea has created further albums with Robert Logan, 'Ether' and more recently 'Realm,' under the name of The Black Loganberries.
Recently, Andrea was introduced to a group of people at The Waffle Club, which opened up the door for her solo songs once more and this forthcoming new EP from NUB records, who she's now signed to. Andrea also met Rob Saunders, who offered to promote her music through Deuce Radio. Andrea has composed two thousand songs.
Her back catalogue is extensive, and published by Jack Russell Music. Her style crosses genres.
Her vocals, are warm, personal and she's a prolific writer, and just as accomplished on her guitar as her piano.
Being self taught has meant that the sky is no limit, and her music is free to travel. At times she conjures up the notion you're listening to a Joni Mitchel, or a Cheryl Crowe and Sade, yet at others she's more of a Kate Bush, Carole King. Her songs tell stories, and are charged with emotion, you can't help but listen. Well crafted songs with well crafted lyrics. define her unique style on guitar and piano and the character of her voice is charged by her passion to perform and communicate. Each one of her songs is a little gem waiting to be discovered.